For nearly 20 years I cultivated a career in technology. I became a specialist in maintaining systems used to produce complicated reports, like financial statements, from large data warehouses. I was very good, I earned a six figure income, had fantastic healthcare benefits, and my own office with a door and real walls. I worked on a gorgeous campus with ponds, walking paths, a free gym, and a very reasonably priced cafeteria that made very good food. I was invited to speak at professional events, presented papers on the work I did, and coordinated quarterly community presentations.
In my spare time I helped put on two different community events in Portland. One in the summer, spanning 5 days, and another in autumn, merely an evening production. I was pretty much in a continuous state of planning for those events.
I also became increasingly involved in my Mother's failing health; ultimately reaching the point where my wife and I purchased a new home in order to move her in with us. There's a whole book to be written about my Mother, but to try and keep it short, she was mentally ill throughout my whole life. She was chronically depressed and a narcissistic personality disorder. She remained abusive toward me until she died in 2015.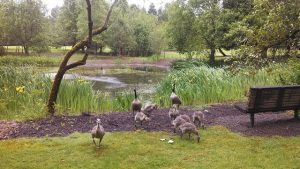 By all appearances I'd arrived, career wise. However, I was on call all the time, regularly getting calls in the early hours of the morning. I worked 60+ hours a week regularly. I often left the office at 6pm, having arrived around 8am and worked through lunch, made dinner, made sure my Mother ate as well as drew up her insulin, and made sure she had her pills. Once she was settled, around 10pm, I'd log back into work on my laptop and work for another hour.
I'd still kept teaching yoga, at the gym on my campus, one day a week. However, once my Mother was moved in, between her needs and the increasing conflicts with work, I kept cancelling my class. Ultimately the manager of the gym replaced me, needing someone who could be consistent for the students. It hurt a lot and it was the first time in years I wasn't actively teaching yoga. It was a profound loss.
All of these things came together as 2013 turned to 2014. My tenuous grip on my anxiety slipped, I was no longer sleeping through the night at all, even if I didn't get paged or needed to care for my Mother. She left our house in November of 2013 in a flurry of malice and chaos. I began to just shut down. The Human Resources people at work advised I take a short term disability leave.
I'd just changed to new healthcare providers who promptly told me that I was the verge of hospitalization for exhaustion and anxiety. I was also told that I needed a new thing to do with myself, I was advised to leave tech and undertake my early retirement plan at least 10 years ahead of schedule. It was devastating news, for weeks allI could do is teach myself how to sleep again and the slightest of upsets could trigger a complete shutdown, where I'd shiver uncontrollably under a blanket from 15 minutes to several hours.
A whole lot has happened since that news came crashing down on me in 2014. I didn't let it keep me down for long, I began pulling myself back onto my yoga mat and meditation cushion. I jumped into finding a program for training as a yoga therapist. I found a couple of inconvenient teaching jobs, just to get back into the swing of teaching. I made my way through my program, Integrated Movement Therapy, added classes, and ultimately have found my focus.
I am now, without a doubt, doing my life's work. I work with people on trauma recovery, anxiety, depression, and cultivating resiliency. I've developed a passion for working with senior citizens and teaching adaptive approaches in yoga. Today I am celebrating taking on my second therapy client after completing my training program!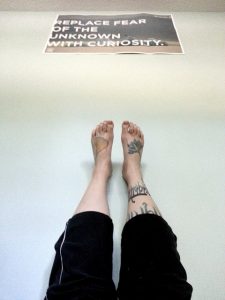 To look at me now I'm a success story. While I don't dismiss that, I feel like I'm finally working on what I need to be working on and it is profoundly rewarding work, I also feel like I should be a cautionary tale as well. I stayed in a toxic job because the money was good and I had bought into the trap of Productivity as a lifestyle, busy as a lifestyle, exhausted as a status symbol. I didn't make a graceful exit, I had the bottom drop out from under me. I worked hard yes, but I also had some amazing support from my friends and, particularly, from my wife.
Mostly I hope people see my exit from the tech industry as more than just another statistic of women leaving, but as a reminder to have skills we do outside of "work", have things that enrich us beyond our paycheck, and if you're working in a toxic environment, plan your exit strategy. Don't wait to be told you have to leave because you've become too ill to work.
Next week, more on the Productivity Trap and how it keeps us "hustling for our worthiness", in the words of Brené Brown.