At the beginning of December I was on my way to Puerto Vallarta, the first stop on my way to attend a transformational retreat on offering yoga at end-of-life. Mexico was an astounding place to visit. From delightful people, happy to help me practice my very rusty Spanish, to the natural beauty of the mountains that rise up all around the area, every thing was delightful. I was particularly touched with how friendly folks in Mexico are to United States citizens, I'm grateful people don't assume that all Americans are in agreement with the current political administration.
I was fortunate to get to travel with a friend from Portland and share some costs with. We spent Sunday evening and part of Monday in Puerto Vallarta, not nearly enough time to explore! I know I will want to return, with more time to wander at leisure through this vibrant town. Reminding me of the Kailua-Kona side of the Big Island and New Orleans, with a flair all it's own, Puerto Vallarta is a place where everyone seems to go to have fun, locals as well as foreigners. Families with young children, hip trendsetters looking to get noticed, folks just there for a little sunshine & sand, and lots of older folks; everyone there to enjoy the views, the food, the music, the waves, and the sun.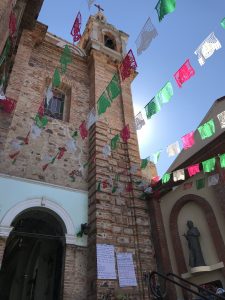 We were there in the nine days leading up the the feast day of the Virgin of Guadalupe. This means a procession winds through town to the beautiful Church of Our Lady of Guadalupe every day; we waited on our way to the hotel for one. Fireworks can be expected to randomly go off, any time, night or day. People gather at the cathedral daily to pay their respects to the Virgin. I made a point to offer my thanks for a safe journey when I popped into the cool of the church for a moment to admire the interior.
In the afternoon we all gathered at the airport before heading to the private nature reserve and small resort, Punta Monterrey.  I enjoyed simple, wonderful meals in good company, and spent my nights listening to the sounds of the waves just steps from the doors of my little cottage. I was grateful for the abundant time to rest and integrate the work we were doing.
The training itself, with my teacher Molly Lannon Kenny, gave a boost to my skills, gaining more insight into working with medically fragile folks to provide support. I have started to reach out slowly to people about my plans to work in this area. Once I've begun sharing my intention to offer support around end-of-life care I've noted there's no shortage of people around me who've recently experienced loss or are dealing with parents who are entering last stages with terminal illnesses. I'm letting the path to how I'll do more of this work unfold over this year.
In between the deep work I was doing with my new friends in practice, there were moments of profound, and every day beauty that continue to nurture my soul. Moments like walking amidst butterflies after breakfast ever morning as they fluttered around the multitude of flowers growing in abundance everywhere. The sound of dragonflies in the evening as they hunted mosquitos while the sun set and the surf pounded. Then there was the unexpected wonder of seeing baby, Olive Ridley Sea Turtles on our last morning there, while making our way down to the beach for a final ritual together, making it feel all the more precious for the tiny miracles we'd just seen.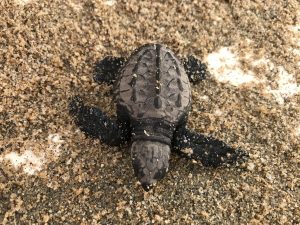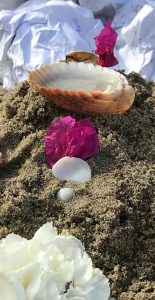 One, truly magical afternoon found our whole little group floating together in the ocean. This alone was such a moment of deep connection that my heart was full. Then we heard the whales.
Deep bass notes, clicks, whistles, and higher, violin-like refrains; a veritable choir singing as they traveled south together. In those moments, as small and fragile as I felt, floating on the vastness of the ocean, I felt myself resting in, and connected to, the Divine.
In the weeks that have followed, I'm realizing I've taken something else home from the retreat. I'm finding that the grief, and low of depression, I experience very strongly from November into February; hasn't been as dark as it has felt in past years. It feels like some of the sharp edges of my own grief have been smoothed down, like a piece of rock tumbled against sand until it is polished agate. Something in the rhythm of the waves, the songs of the whales, and in the singing on the beach I did; it all seems to have made my own grief lighter to carry.